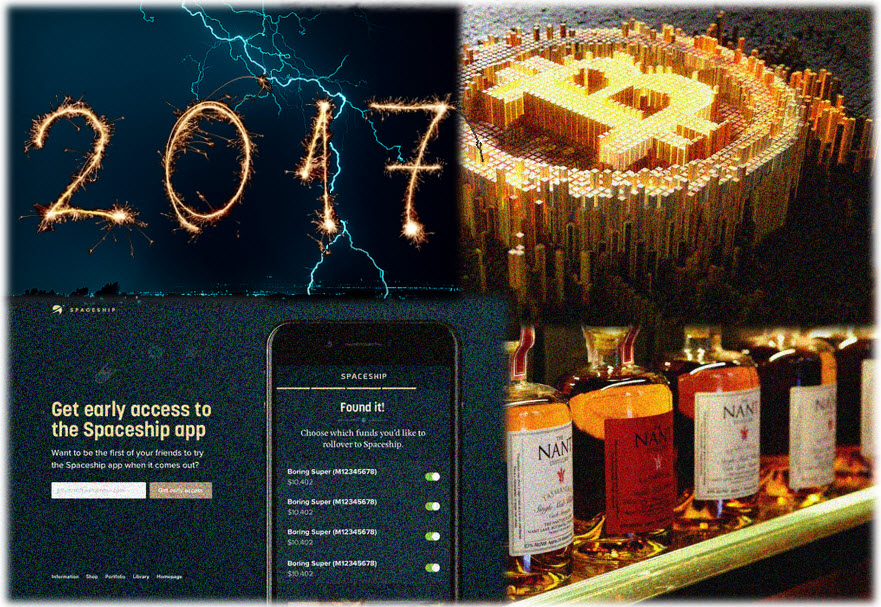 Like all years 2017 was an interesting one. It's been strong gains across the equity space with little volatility – almost unheard of.
Mainland capital city real estate finally looks to be slowing, just forget the debt. Maniac property investors are now beginning to wreak havoc with the liveability and affordability of Hobart.
There has been one dominant force across 2017, generating more headlines than any other. The interest is truly confusing when you consider how few people own It – 1000 people have 40% of the current market and theoretically there will only ever be 21 million in circulation.
Yes, Bitcoin
We've been asked about it and we've warned that it's something to stay well away from. Since our warning it's gone up more than 250%. So, what do we know? Like every financial disaster, things look amazing until they don't. There are issues around cashing out and there are suggestions many of the most recent buyers are doing so with considerable leverage. What this suggests is a crowded buy side and a part of the sell side that doesn't understand its exit route.
Not only that, people are writing into investment columns asking should they buy because their friends have made money – there's nothing more dangerous than envy and greed!
Finally, the founder of McAfee, John McAfee is so confident of bitcoin hitting $1 million by 2020 that he's said he'll eat his own penis if it doesn't happen. Yes, you read that right. Is there something we can learn from that? Yes, this is becoming a religion. It's your favourite sports team. Your political alignment. The adherents are ridiculously passionate and welded to their beliefs. They might be more interested in being right than making money. In saying that, for all we know it could go up another 250% next year. Still too dangerous to touch.
Professionally
In 2017 we were proud to have our CEFEX Certification reaffirmed after first attaining it in 2016, while Peter was reappointed chair of the Global Association of Independent Advisers.
Our Best of 2017
The Logical Sequence of Life – What if you decided to save for retirement before buying a house?
The Nant Investment Death Cross – Want to know how investors get sucked into nonsense like Nant Whisky? Watch the sharemarket go sideways as the cash rate falls. The undisciplined will start looking for alternatives.
Spaceship Super Navigates Towards the Naïve – Some at Spaceship Super weren't impressed with this article that spelt out the deficiencies of their overhyped super fund. An adviser at another FYG Planners firm (our AFSL) published it on his website and one of the marketing people at Spaceship responded by giving his business a 1 star review on Google. The ethics of this action were questioned on twitter and the 1 star review was quickly changed to 5 stars!
The land of Confusion – Are we in truly in the most consequential time in history? Vanity would suggest yes. Facts would suggest no.
AFL Blind on Financial Advice – Despite advancements in AFL player welfare, we find money management by player managers still seems like the wild west.
Acronyms we learned and weird terms to consider
FIRE – financial independence retire early. A movement (more popular in North America) dedicated to saving/investing as much as possible as quickly as possible, before retiring well before the expected age. Many are ratcheting down their household expenses to below 4% of their final portfolio goal with the assumption they'll get by on that 4% each year for perpetuity. ie $500k = $20k of yearly portfolio withdrawals. As you'd imagine it helps to live in a low cost of living area.
Churning – want to sit up at the pointy end of the plane when traveling, but not pay pointy end prices? You'll have to ditch your loyalty to any bank and be prepared to ruthlessly apply for credit cards to grab point signup bonuses, before ditching them when the points hit and move onto the next card – this is churning.
The catch? Some cards are fee free for the first year, others you'll have to cough up for. Of course, you have to hunt for available reward seats when you want to fly and you'll still pay fees and taxes However, across a year it's not hard to find two, first year fee free platinum level cards each offering 60k bonus points. How many points do you need to fly? Business class (reward seats) one way with either Australian airline is 96k points from east coast Australia to West Coast US. Not the best idea if you carry a monthly card balance – stick to a low rate card. Like bitcoin and FIRE, for some this has become a fanatical pursuit.
With that, we'd like to wish you a Merry Christmas and a Happy New Year. We'll be closed from Thursday 21 December at 5pm and we will reopen on Tuesday 2 January 2018.
Finally, if you're a Star Wars fan here's an intro crawl for a laugh.
And here's Glenn, in our first adviser video profile. We hope to be doing more work with video in 2018.
This represents general information only. Before making any financial or investment decisions, we recommend you consult a financial planner to take into account your personal investment objectives, financial situation and individual needs.