Global Association of Independent Advisors

Mancell Financial Group is proud to be a member of the Global Association of Independent Advisors™. The Global Association of Independent Advisors™ (GAIA) is an international network of investment advisory firms, whose overriding commitment to fiduciary excellence, ensures they always put their clients' interests first.
For you as an MFG client this means the highest fiduciary standards will be followed throughout every step of the investment process. Every GAIA firm has to hold CEFEX certification. The Center for Fiduciary Excellence (CEFEX) serves as an independent auditor to verify that an investment advisory firm conforms to all practices and criteria that comprise the Global Standard of Fiduciary Excellence.
To date, just over 100 firms across the globe have achieved this certification. There are five CEFEX certified firms in Australia and Mancell Financial Group is the only CEFEX Certified Firm in Tasmania. Every GAIA member firm is required to obtain and maintain CEFEX certification, and at least one individual at each firm must be certified as an accredited investment fiduciary (AIF).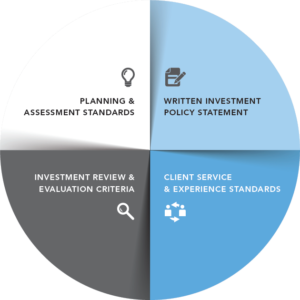 GAIA's fiduciary standards rise well above the limited performance reporting requirements governing today's investment management industry. GAIA standards encompass all aspects of client relationships from the development of their financial and investment plans and written investment policy statements, to our review and evaluation of their investment portfolios. This includes the ongoing guidance and monitoring of each step of the client's financial journey.
Mancell Financial Group's membership in the Global Association of Independent Advisors™ is an important stake for clients, as all member firms encourage and share best practices across all facets of their business. This learning and development across the group ensures clients are not only exposed to best fiduciary practice, but also leading edge developments in wealth management across the globe.